I absolutely love Art Deco and the style of Charles Rennie Mackintosh. The different shapes and marks used in many of his designs were perfect inspiration for a new screen print design. One of Rennie Mackintosh's famous projects was the Glasgow School of Art in Scotland, and I used the school signs and the library lampshades to create an effective design that could be used with a screen print.
The final design is quite versatile and can be printed in repeat in rows, spaced blocks or used to create different pattern effects.
I chose to print on 3 different fabrics: (i) some cream cotton twill that I found in the Cloth House on Berwick Street, (ii) a hide of turquoise blue leather and (iii) finally some navy silk taffeta that I bought years ago in Southall in West London. For maximum contrast, I used navy blue screen printing inks for the light coloured cotton and blue leather, and gold ink for the dark silk.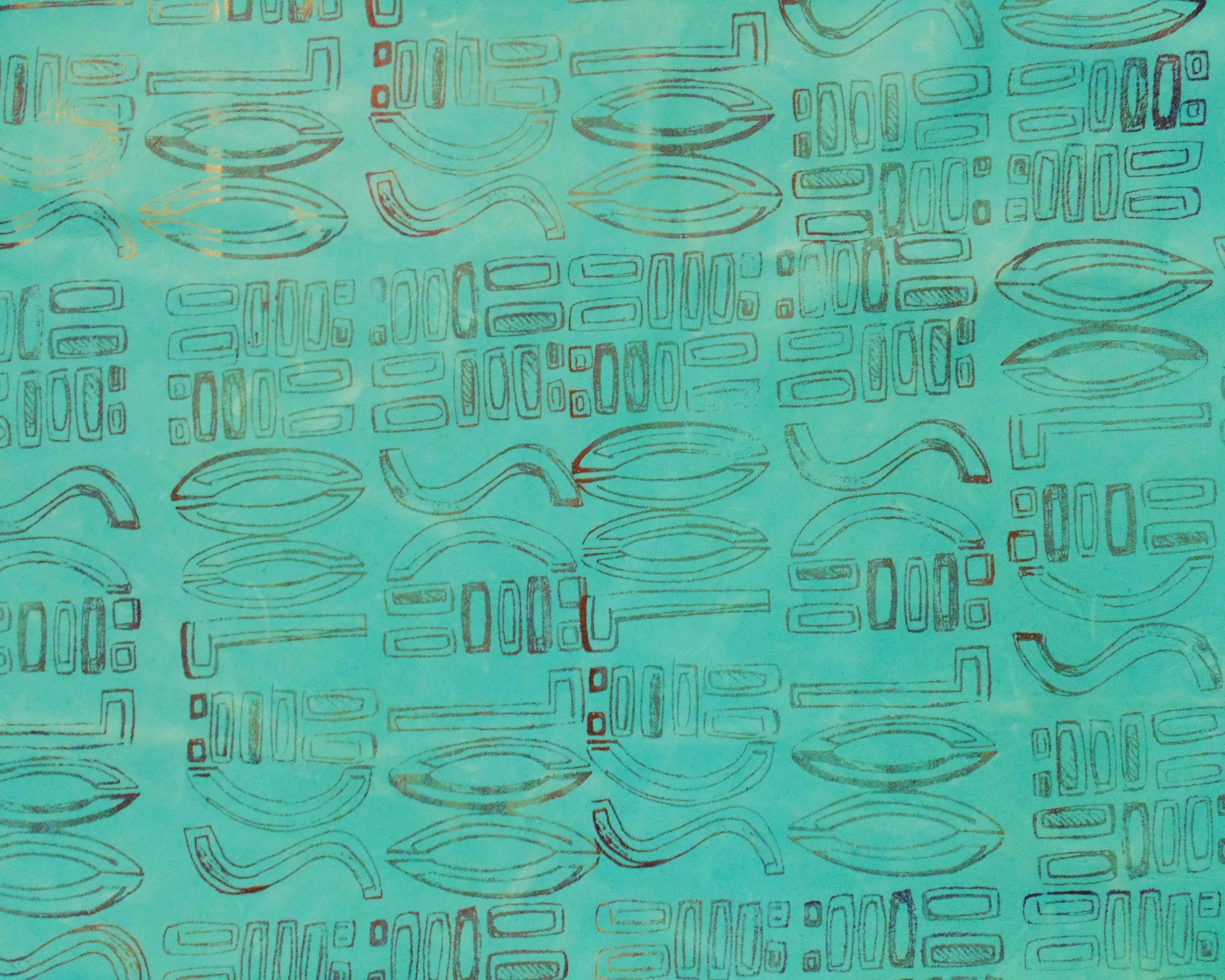 THE FINISHED PRODUCT...
The results are really effective on all three surfaces, so now all I need to decide is what to use them for!
Turquoise Leather: although summer is a fair way off yet, the turquoise blue would be perfect for the summer, and the softness of the leather should work for an oversized clutch;
Cotton Twill: as plastic bags are fast becoming a thing of the past, I want to make a large cotton shopper with tan leather handles out of the printed cotton;
Navy Silk: finally, the beautiful silk will be perfect for some cushions on our sofa - I've already wrapped the fabric round an existing cushion to see how they might look.
A NOTE ON SCREEN-PRINTING:
The Screen: I ordered the screen online from Thermofax Screens - it was really simple to upload my PDF design and select my screen size. The screen arrived in the post within about a week - they also recommend using their own squeezees for the screens, as the mesh is pretty delicate;
The Inks: I used Jacquard professional quality screen printing inks (available online from Rainbow Silks) in gold and navy blue, so there was no need to dilute or mix them with screen printing mediums. I also use other brands screen printing inks but these Jacquard inks are suitable for printing on leather;
Fixing: once the inks had a chance to dry overnight, I followed the instructions and ironed on the reverse of the cotton canvas and silk (being careful with the temperature of the iron for the silk). I wasn't able to iron on the back of the leather, so hopefully that will be ok.